Wood oils and Timber stain are both used to protect your Cedar timbers from the effects of rain, sun, general weathering, mould or insects.
Both, if used with the lighter to medium colours, allow for the natural grain of the timber to show through the protective treatment.
In the past many favoured stains as they provided more colour options. But today's pigmented oils come in a wide range of colours and can change the look of the natural timber to your preference.
So what do you need to know about timber stains and wood oils, and which is better for your property?
Wood Oils:
Oils are designed to be absorbed more deeply into the timber and provide protection through their water repellent characteristics, anti-fungal additives, and colour tone pigments. Because the oil is absorbed in the timber, oiled cedar cladding has a matt or flat finish.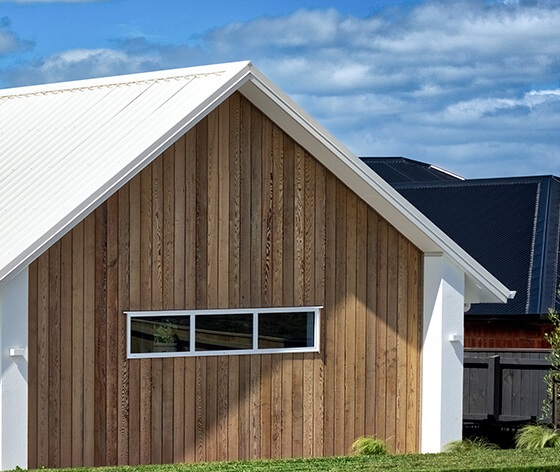 The pigment provides protection from the sun's UV rays and reduce uneven discolouration. As the timber dries the absorbed oils migrate back toward the surface continuing to provide a level of protection. Provided it is re-treated regularly (topping up the oil reserves as it were), oiled timber will remain supple and be less likely to cup, split or warp.
Another advantage of oiled cladding is that it is reasonably graffiti resistant as paints will not adhere strongly to the oiled surface.
After the initial treatment with wood oil, as in the case of a new build, or oiling a property that has been converted from being stained or has been neglected, a second "top coat" needs to be applied within 12 months to complete the treatment. After this the re-treatment schedule would be the same as with stain.
Extra care needs to be taken when cleaning oiled cladding. Bleaching and strong cleaning chemicals, water blasting, or harsh brushing or rubbing will remove or discolour the colour pigment which sits on the surface of the timber. All that is needed to keep the treatment and underlying cladding in good condition is a light water wash down each year.
See FAQ about using a clear oil.
Timber Stains: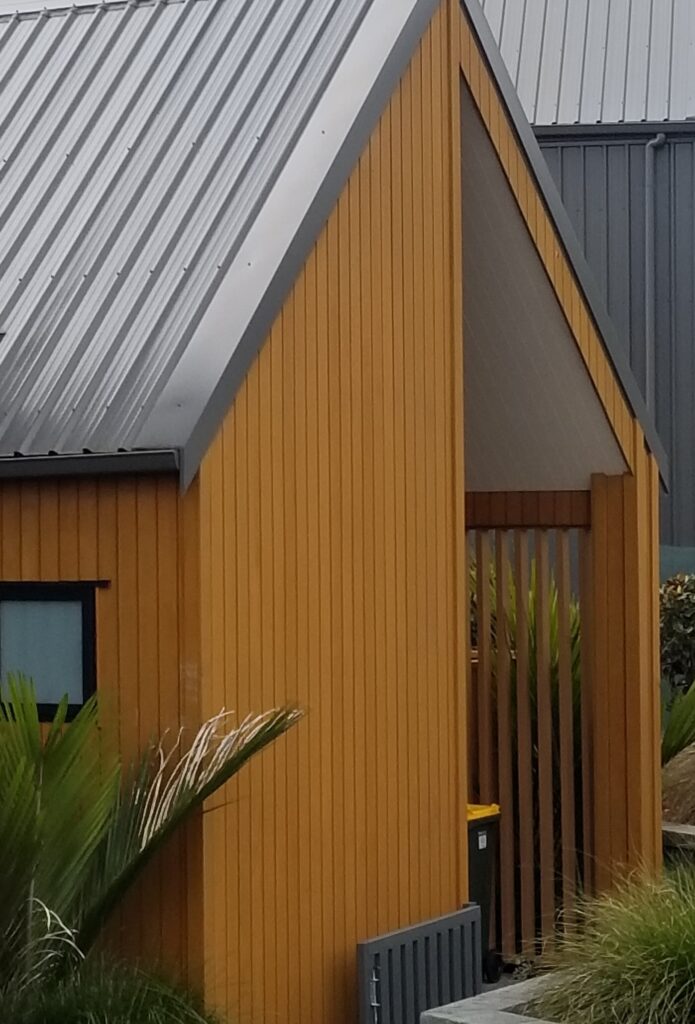 While a stain will migrate into the timber to some extent, it is principally a film-forming surface coating. Two coats are required each time to provide adequate protection.
Re-treatment times will vary depending on conditions and exposure of the timber to the elements. Experience shows that 4 years is the average. After this the cladding will stop beading water, which means that the timber will start to absorb and retain moisture.
The constant movement from the wetting and drying of the timber will cause a breakdown in the stain's surface coating and the eventual cupping and splitting of the timber. Dust, salt air contamination and mould spores adhere more to moist timber, and increase the incidence of mould and mildew developing.
Once the stain surface is oxidised and broken, the integrity of its protective qualities will be compromised. This allows moisture to be absorbed into the cladding. If untreated this can lead to the timber starting to cup, warp, split, and even rot.
In time, repeated applications of stain will build up, becoming less transparent and leaving a shiny surface. To retain the original wood grain look you will need to strip off the stain and start the process again.
The Cost Factor:
Oil is a more expensive product than stain. It will be generally twice the price of stain per litre. The second ("top coat") of oil also needs to be applied within 12 months of the initial treatment. However, only one coat of oil needs to be applied for each treatment and the time to apply it is less than for stain.
Stain needs to be applied with two coats each time. Therefore, after year 5 the labour hours are at least twice that of oil for each re-treatment.
Figure 1 – Comparison of staining vs oiling times for an average size home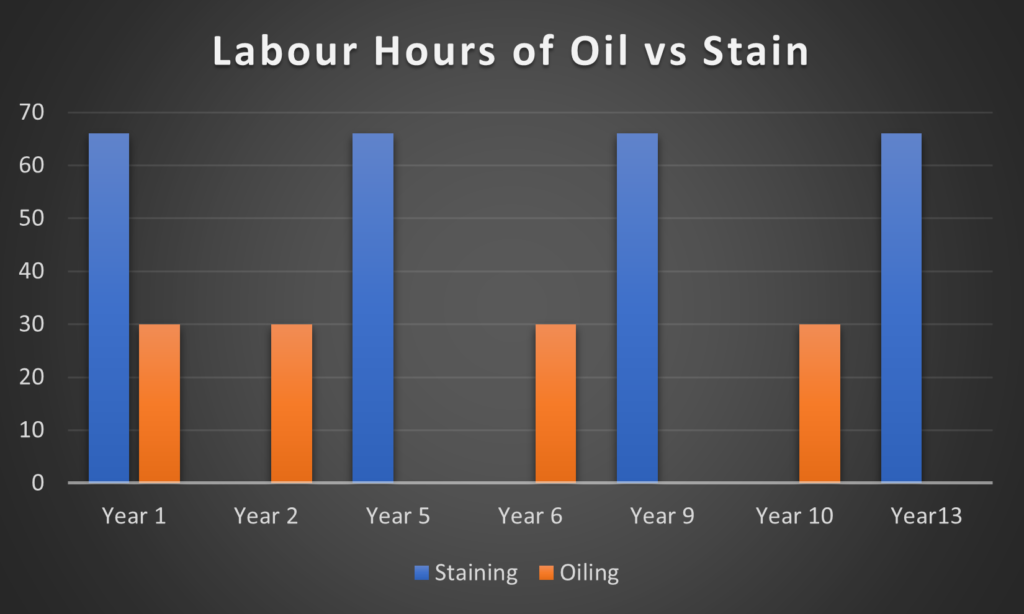 In this example, after 13 years and 4 re-treatments, the total labour hours for stain were 264 as opposed to oil being just 120. Therefore, even though using a wood oil means that you need to apply and second "top-coat" coat within 12 months of the initial treatment, you will very quickly get a significant cost saving in labour.
See FAQ about using a clear oil.
If you are not sure about any of these matters, contact us for some advice.
Learn more about what you can do to maintain the Cedar on your home by reading our article What You Need to Know about Caring for the Cedar on Your New Home.