Does your property have a Cedar shingle (sometimes called cedar shake) roof? If so, it needs to be maintained so that it continues to be weather-tight and retains its appearance.
Signs that some maintenance is due are when the shingles are discoloured, silvering off, or they have mould showing on them. Mould may be black, white, red or green. Also look to see if the shingles are cupping, or even worse, lifting and starting to split.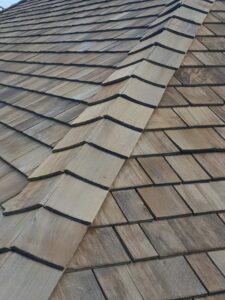 In addition to getting the shingle roof chemically cleaned to take away the dirt, mould and other contaminants that cause it to retain moisture and can lead to rot, you should apply a coat of protective wood oil.
The wood oil will replenish the natural oils of the shingles and help reduce cupping and splitting. The oil also has an anti-fungal component that inhibits the development of moulds.
Using a tinted wood oil, such as Dryden WoodOil's Platinum, will give it a natural weathered look, while providing a UV shield which maintains an even colour tone and further protects the Cedar from degradation.
If you are not sure about any of these matters, contact us for some advice.
Learn more about what you can do to maintain the Cedar on your home by reading our article What You Need to Know about Caring for the Cedar on Your New Home.